Free 5 Year Energy Master Plan Guide
Our free 5 year plan highlights what schools should know about measurement and verification (M&V) which at the heart of the Proposition.
Establishes the process to achieve results by developing a Sustainable Energy Master Plan required by funding administrators.
It  helps you navigate  Prop 39 funds without selling you products you don't need.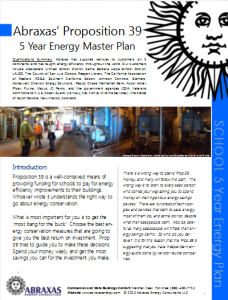 Abraxas Clients include California Community Colleges and K-12 School Districts
Alan Hancock Community College
Los Angeles Unified School District (LAUSD)
San Diego Unified School District 
Atascadero School Unified School District 
Santa Barbara Hope School District
Merced Union High School District
El Monte City School District
Created Energy Metrix Models for 5 Schools:  Bancroft, Crescent, Canyon, Community Magnate, Fairburn
Cal Poly San Luis Obispo 
Learn more