FastData Deluxe is the state-of-the-art in data entry software.

What do you use for your bill-entry needs? The answer that most people instinctively provide is "Microsoft Excel." First and foremost, Excel is not made for bill entry. Of course, Excel can be useful once you already have your bills in some electronic form.
Video Overview of Fast Data Deluxe
When it comes to manually entering bills with Excel, though, it's just not up to par. With FastData Deluxe, you can enter bill data faster, and with greater ease than you ever imagined.
Save Money and Time

If you're still using Excel alone to enter your bills, you're wasting valuable time AND money. Using FastData Deluxe data entry programs, you can tab through all the necessary fields of your bill data in a matter of seconds, without ever touching your arrow keys. By taking advantage of the infused control-key technology in FastData Deluxe, you never even have to touch your mouse!
The Most Accurate Possible Data, Every Time
When manually entering data, human error is always going to play a role in the quality of your data. It's just so easy to accidentally hit an extra zero or misplace the decimal point. Inherent in the framework of FastData Deluxe is the ability to run Quality Control checks on every bill, against every bill. By using the built-in Quality Control check in FastData Deluxe, you are guaranteed to have the best quality of manually entered data possible.
Anyone Can Use It!
FastData Deluxe was created with this simple fact in mind: not everyone knows about utilities and conversion factors. That's why we designed FastData Deluxe to be operated by your basic, everday clerical worker. Anyone who can type can use FastData Deluxe.
Fully Integrate with Metrix 4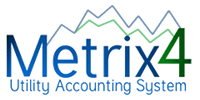 FastData Deluxe was built to revolve around Metrix 4 Utility Accounting software. This means that you can import meters along with any and all bill data directly from your Metrix 4 project. After your Metrix 4 project has been imported into FastData Deluxe, the next step is to add more bill data to it. Once you add bill data to your FastData Deluxe project, it can be directly exported to your Metrix 4 project – no more worrying or fussing about MT1 import files!
FastData Deluxe Can Export to ANY Format You Need
Using FastData Deluxe's exclusive custom routine engine, you can make FastData Deluxe fit any need you might have. Pricing for custom routines ranges from $500 to $900.
Interface with Accounts Payable
Update Your Energy Star Portfolio
Export Data into Access, SQL, or MySQL
Import from just about any media or file type around!

FastData Utilizes Microsoft Excel
FastData Deluxe runs inside of Microsoft Excel 2003 and up. The bills you enter will be directly entered into an Excel spreadsheet, which can then be exported straight into Metrix 4.
Pricing
The current pricing for FastData Deluxe is $750 per user.