California School District Funding
At Abraxas Energy Consulting we have been working with Local California schools for over 14 years.  Our professional and qualified engineers provide Metrix M&V software, Benchmarking, ASHRAE Level I and II, and Retro-commissioning Energy Audits. We bring the experience and know how to establish your best way forward.
[ez_two]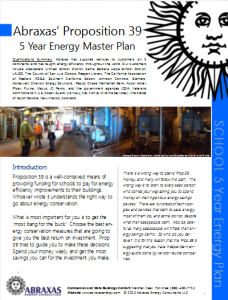 [/ez_two]
[ez_two_last]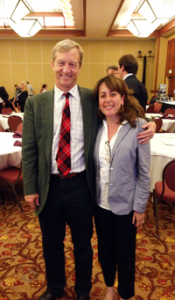 [/ez_two_last]
Abraxas Clients include California Community Colleges and K-12 School Districts:
Los Angeles Unified School District (LAUSD), San Diego Unified School District , Atascadero School Unified School District , Santa Barbara Hope School District, Merced Union High School District,El Monte City School District, Create Energy Metrix Models for 5 Schools:  Bancroft, Crescent, Canyon, Community Magnate, Fairburn.
August 2013 Alan Hancock Community College ASHRAE Level 2 Free Audit
[ez_two_last]
" Abraxas' Energy accounting is the backbone of the school district's energy management program. The detail I am able to bring to administrative meetings demonstrates a level of expertise and knowledge that was previously impossible to report on."– Jim Faes, Energy Educator- Jefferson County Schools
[/ez_two_last]
[ez_two]
"Abraxas performed ASHRAE Level II Energy and Water Audits on 8 buildings at MCAS Miramar, totaling over 700,000 sq. feet. Their recommendations have the potential to lead to a 26% energy reduction and 24% cost savings with an average payback of less than 6 years. I highly recommend their services. I would absolutely work with them again."-Chris Garvin, P.E.,CEM, LEED AP Ret. Public Works Officer,  Marine Corps Airs Station Miramar
[/ez_two]
[ez_two_last]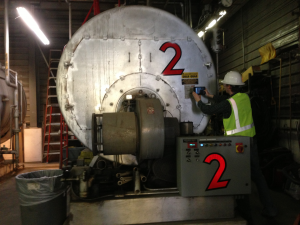 [/ez_two_last]
[ez_two]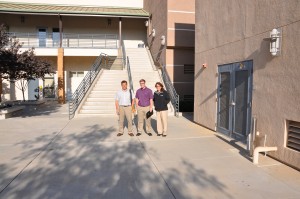 [/ez_two]
[ez_two_last]
"Since we began retrofitting facilities in September of 1997 until the end of April 2005, the University of Manitoba has saved over $19M on utilities. My Metrix energy accounting software experience has been extremely successful!"– Mike Ferley, University of Manitoba Energy Advocate
[/ez_two_last]
Qualifications Summary: Abraxas has supplied services to customers on 5 continents, and has taught energy efficiency throughout the world. Our customers include Atascadero Unified School District, Santa Barbara Hope School District, LAUSD, The County of San Luis Obispo, Reagan Library, The California Association of Realtors ,PG&E, Southern California Edison, Johnson Controls, Siemens, Honeywell, Chevron Energy Solutions,  Pepco, Chase Manhattan Bank, Accor Hotel, Pfizer, Purina, Macys, JC Penny, and the government agencies (GSA, Veterans Administration, U.S. Coast Guard, US Navy, FBI, Fish & Wildlife Services,), the states of South Dakota, New Mexico, Colorado.
[ez_btn color="orange" url="https://" target="_self"]See More info here[/ez_btn]