California's Assembly Bill (AB) 1103 energy benchmarking and disclosure law for whole building financial transactions is currently in effect as of January 1, 2014. Are you in need of help? Abraxas energy consulting will assist you with benchmarking and disclosure compliance.
What is AB 1103?
In November of 2007, California passed Assembly Bill 1103, which mandates energy benchmarking and energy disclosure for non-residential buildings. AB 1103 requires non-residential business owners' energy consumption and other building data be input into the Environmental Protection Agency's ENERGY STAR Portfolio Manager system by a certified energy manager.
What Buildings Must Comply
Any non-residential building offered for sale, lease, finance or re-finance is required to comply.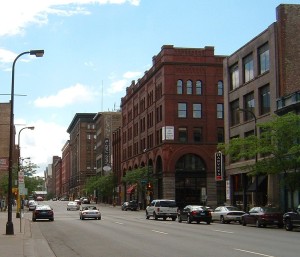 If your building is one of the following, Assembly, business, schools, medical offices, senior care facilities, mercantile (retail store), hotels, hospitals, storage (warehouses), or parking garages, you must meet the criteria.
*The only noted exceptions to the assembly bill being Industrial Buildings (manufacturing), vacant buildings (disclosure required), or Lease renewals executed prior to the passing of AB1103.
Why Does this Matter?
First, it is the law, and you are obligated to comply with it.
But mostly, failure to disclose the energy benchmark could result in potential liability issues or void the sale contract altogether.  You could risk giving a buyer who is reconsidering an escape from a building sale.
How Does this Work?
If you are planning on selling, leasing, or re-financing a commercial building, then you need to get your building entered into the Portfolio Manager.  Once this is done, you will receive a form that discloses your energy rating.
You must provide your building's energy rating to the buyer or lease one day before they sign the sales contract or lease.
You must provide your building's energy rating to the lender at the time of signing of the refinancing paperwork.

What is the ENERGY STAR Portfolio Manager?
Portfolio Manager is an online system that rates buildings energy usage based on building type, region, occupancy, and other criteria.  The ratings are based on a national database of commercial buildings.  Each building is given an Energy Star score, between 1 and 100, 100 being the best.  A score of 75 indicates that the building is in the 75th percentile of buildings in terms of energy efficiency, or, in other words, the building is more efficient than 74% of comparable buildings.
If you get an Energy Star score of 75 or higher, you are eligible to get an Energy Star plaque to put on your building.  To get the plaque requires an Energy Star audit supervised by a professional engineer.
When does this go into Effect?
AB 1103 mandates that building owners must adhere to the following schedule:
On and after January 1, 2014, for a building with total gross floor area measuring more than 10,000 square feet and up to 50,000 square feet.
On and after July 1, 2016, for a building with a total gross floor area measuring more than 5,000 square feet and up to 10,000 square feet.
*latest updates to AB 1103 are available on the California Energy Commission website.
How is AB1103 Enforced?
The current AB1103 regulations do not call for stiff penalties, or monetary fines for those not in compliance. There are however, Civil Code Laws in place to protect buyers in real estate transactions.
In addition, there are investigation and complaint processes put in place by the CEC that regulate compliance, and could lead up to civil penalties and/or an administrative hearing. Most importantly, failure to disclose could the energy benchmark could result in potential liability issues or void the contract altogether.
It should be a best practice to ensure energy disclosure occurs, and compliance is met. Why even risk losing a potential deal, or giving a disgruntled buyer an unwarranted escape from a contract?
The Process to Comply with the Law
Below we have listed what needs to happen in order to meet compliance standards
An Energy Star account must be created 30 days prior to required disclosure
Data collection forms/checklist to be distributed and completed
Utility providers must upload energy data within 30 day timeframe
Data entered into portfolio manager
Energy benchmark to be disclosed
Sales or lease contract signed
Loan Documentation submitted


Call Abraxas today. Avoid possible delays in transactions, CPUC investigations, or litigation. Let us help you comply with AB1103 in a fast, simple, and unfettered way.
We appreciate your time and business and look forward to hearing from you.