The Arizona Corporation Commission (ACC) ordered all its investor owned utilities to achieve a 1.25% annual savings starting in 2011 and increasing up to 2% in 2013. This sets the stage for a progressive role in energy efficiency in the state of Arizona,but we also want it to lead to greater profitability for your company.  As Arizona continues to push to be a national leader in Energy Efficiency, Abraxas Energy Consulting supported many companies and agencies with the expertise in performing initial building assessments which include:
Providing energy program management as a qualified service provider (QSP).
Performing Benchmarking based on historical energy data.
Performing commercial energy audits to include ASHRAE Level I, II,  and III
Performing Retro-commissioning Audits (RCx).
Performing Utility bill analysis.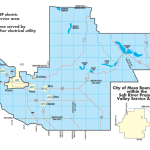 SRP Project
Our utility partners include Arizona's second largest electric utility, the Salt River Project (SRP). SRP offers a comprehensive range of efficiency programs, to include a retro-commissioning audit  program that acts as a "tune-up" for commercial buildings 25000 sq.' or larger.  Abraxas will be working alongside our Arizona partner, Widefield Technology, Inc (WTI).  We have great respect for Widefield's commitment to energy conservation and look forward to joining forces on the SRP Retro-commissioning Program. Widefield will direct the review of program processes and assessments, while Abraxas will provide the onsite technical expertise. Together, our primary focus will be customer satisfaction and commitment to our customer's success in helping their energy projects bring maximum return on investment.
Service Rebate
The Retro-commissioning  audit program is a "service rebate," meaning the analysis, diagnostics and technical assistance provided act as the rebate and are funded by SRP  and executed by qualified Alliance Contractors.  Alliance Contractors will investigate and address, as appropriate, a pre-screened list of potential measures. These Measures may include the following:
Adjust HVAC and lighting equipment operating schedules
Adjust air-side economizer operation
Repair air-side economizer sensors
Repair air-side economizer damper actuators
Add D/X outside-air lockout controls
Adjust minimum outside air intake percentage
Benefits of Retro-commissioning
According to a study by Evan Mills of Lawrence Berkley National Laboratory and sponsored by the California Energy Commission in 2009, retro-commissioning (on average) reduces energy usage by 16%, pays for itself in 1.1 years and generates a 91% cash-on-cash return on investment.  This has certainly been our clients' experience.
The many documented benefits resulting from retro-commissioning include:
 Improved system operation
 Improved equipment performance
 Increased operations & maintenance staff capabilities and expertise
 Increased asset value
 Energy savings
 Improved environmental control
 Improved occupant comfort
 Improved indoor environmental quality
 Improved building documentation
 Reduced operating and maintenance costs
 Reduced maintenance/troubleshooting issues
Arizona Stats
Average Retail Price of Electricity: $0.11/kWh
Electricity generated by Coal: 33%
Electricity generated by Natural Gas: 35%
Electricity generated by Nuclear Energy: 25%
Electricity generated by Hydroelectric: 5%
Electricity generated by Solar: 2%
To Qualify You Must…
Step 1:  Know your building's sq' Your commercial building must be 25000 sq' or larger and you must have not participated in more than 3 other SRP projects this year.
Step 2:  Check your SRP Price Plan. Only certain price plans are eligible for this program. Review your SRP bill and price plan on your SRP bill. Eligible Price Plans for SRP Business Solutions Retro commissioning Program include the following codes listed below.
Step 3:  Fill out the audit request form located on the side of this page and we will begin processing the paperwork 
[ez_two]
Check your SRP Utility Bill for the following: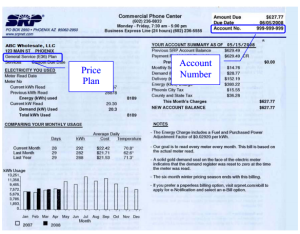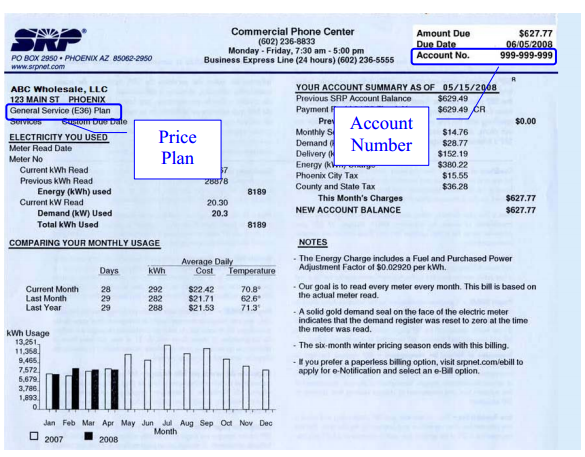 [/ez_two]
[ez_two_last]
Check your SRP Price Plan, do they have these codes?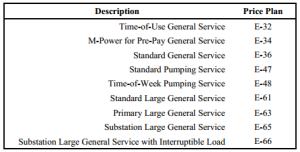 [/ez_two_last]